Welcome: Aims and Principles
Headteacher's Welcome - Jonathan Smart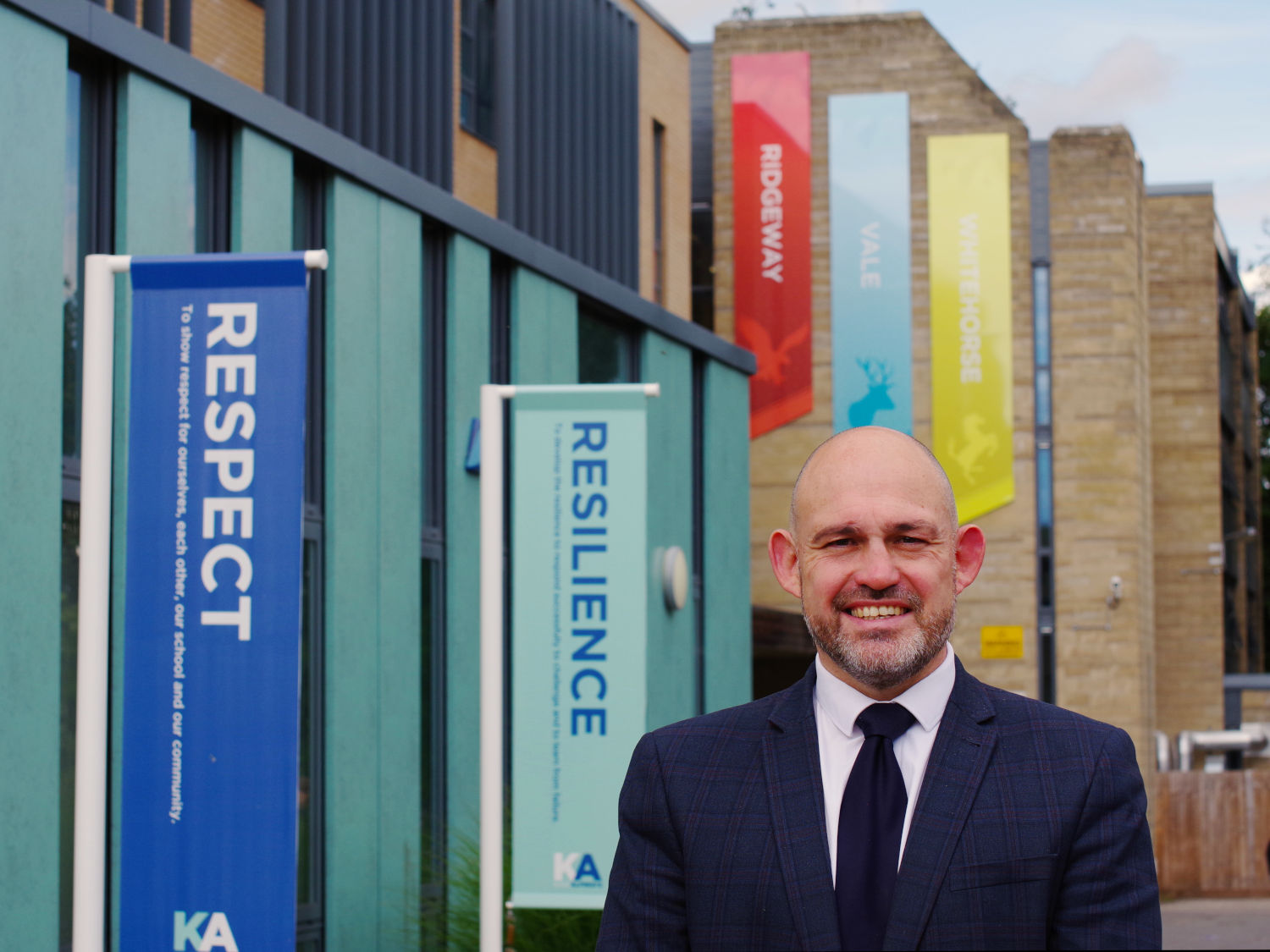 On behalf of our students, staff, and governors, I would like to take the opportunity to welcome you to King Alfred's Academy. It is a privilege to do so as the Headteacher. King Alfred's is a friendly, ambitious, and vibrant school packed full of energy, opportunity, and choice. Our mission statement is "Opportunity for All", something we believe in passionately and strive to deliver to our students each and every day.
These ideals are encompassed in our core principles of Responsibility, Respect, Tolerance, Curiosity, Knowledge, and Resilience. We are committed to helping every student find what makes them successful in life. Great teaching and learning across the school are supported by our culture of professional development and collaboration. Each student deserves the very best experience to enable them to achieve their ambitions. Our pastoral care provides security and confidence, supporting our students to be happy and thrive.
OFSTED judged us to be 'Good' in every category in March 2022, but we are in no way a school that is content to stay still. We are fully aware that there is always more to do to ensure that every child reaches their potential and experiences a rich education that builds character during their time at King Alfred's. "Opportunity for all" is at the heart of everything we do.
We have developed a thoughtful curriculum that offers a broad and balanced experience to students throughout their educational journeys. Our curriculum leaders have carefully planned the content and sequencing of our courses to ensure students have a well-rounded and coherent experience. Additionally, our large and successful Sixth Form offers an unrivalled range of courses and opportunities for those looking to extend their studies beyond Year 11. Our students' exam success enables them to pursue a wide range of career options across various sectors, whether through university, apprenticeships, or employment.
Of course, our curriculum extends beyond the classroom. Students at King Alfred's benefit from a wider curriculum that many schools would envy. They have access to after-school elective clubs, residential trips worldwide, sporting fixtures, the Duke of Edinburgh Award scheme, our own Character Development Programme, a diverse range of opportunities in the Creative Arts, a reading programme that produces "word millionaires", and the King Alfred's Academic Enrichment Programme. It is a privilege for our students to have such a comprehensive school experience.
At King Alfred's Academy, we devote considerable thought to transition and work closely with our partner primary schools to ensure students receive excellent support when they join us. Year 7 and 8 students are particularly fortunate to spend their first two years with us on their own dedicated site before transitioning to our larger site from Year 9 onwards.
Our ethos of "Opportunity for All" extends to the staff at King Alfred's Academy. Colleagues can be proud to be part of something special, making a real difference in the lives and life chances of our students. It is a rewarding place to work as part of a mutually supportive team where everyone's contribution matters. Our staff wellbeing charter provides a thoughtful approach to wellbeing and ensures that staff have the support and challenge they need to succeed and progress. We set high expectations for ourselves in terms of how we support colleagues and aim to be an employer of choice, providing a happy and supportive environment for staff to further their careers. Personal, professional, and career development are fundamental to being part of King Alfred's, with continuous professional development at the core of our school's work.
The success of our school is built upon strong relationships between staff, students, and parents. We never lose sight of the fact that parents have entrusted their child's education to us. We work in partnership with our students to ensure they have an effective voice and can contribute to the running of the school.
King Alfred's takes pride in being part of the Vale Academy Trust, a network of schools dedicated to nurturing opportunities, building brilliant futures for our young people, and supporting career development for our staff. Collaboration is a significant benefit of working at the academy, with both students and staff benefiting from our partnerships with Trust schools as well as other local and regional schools.
As the Headteacher, I am extremely proud to lead such a caring and vibrant school community. I encourage you to visit us and experience it for yourself. We warmly welcome you to King Alfred's Academy and look forward to the opportunity to show you all that our school has to offer.

Best wishes,
Jonathan Smart
Headteacher
King Alfred's Academy